Weitec Suspension
A better ride for your money
With Weitec Suspension Technology you will get one of the most reasonable suspension kit programs available on the European market. Weitec includes excellent quality and outstanding performance..
The current product range offers everything from lowering springs to sport shock absorbers and complete sport suspension kits, up to one of the biggest programs of coilover suspension kits. The latest innovation, car lifting kits just hit the market. Weitec offers now lifting kits, for those who need to go up instead of getting lower and lower. Thanks to carefully selected materials, reliable partners and years of production know-how, your are guaranteed constant high quality with the sports suspension kits from Weitec. Finally our group R&D and testing resources open all possibilities to design everyday functional and safe products.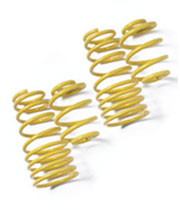 Sport Spring - Weitec Lowering Springs
WEITEC Sports Springs are manufactured in cold winding mode according to DIN ISO 9001. High-quality chrome silicon steel and hardening processes, as well as the final epoxide-coating ensure a long-lasting driving pleasure.
Discreet lowering from 20 – 45mm *
* For use with stock or sports dampers (e.g. WEITEC GT Dampers)
Most Spring Kits with TÜV approval and some applications with ABE
Wedge lowering e.g. 40/30 mm
Lowering Kits from 50mm for combination with shortened dampers.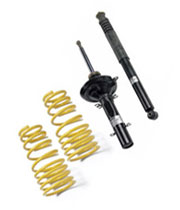 Sports Suspensions
Complete Sports Suspension incl. Springs and Dampers
WEITEC ULTRA GT sports suspensions are high-quality products, yet have an unbelievable cost-performance ratio. For an optimal suspension tuning, WEITEC Sports Springs have been combined with WEITEC GT dampers.
Cpmplete suspension kit with sporty setting for more driving fun and safety.
High-quality components ensure a long product life.
GT dampers have pre-set damping characteristics.
Many different lowering possibilities from discreet to extreme, also for wedge style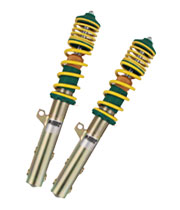 Coilover Kits
HICON GT - Coilover Kits - Height adjustable / fixed damping rates
The HICON GT Series features individual lowering in combination with sporty pre-set damping rates.
Individual lowering within the TÜV approved lowering range
Front axle and rear axle (if technically possible) with coilover adjustment
Galvanized strut housings with additional coating for ideal corrosion prevention
Complete solution with adjustable spring perches, race spring system and rubber stops with dust protection cover.
High-performance twin-tube damper with high-quality components for a long product life.