Milltek Sport Exhausts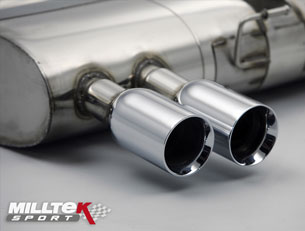 Over 25 years of continuous exhaust development and technical expertise are drawn upon to develop the ultimate Milltek sport range of performance products.
Milltek exhausts are produced in high quality type 304 aircraft grade stainless steel. This material is anti-magnetic and is less susceptible to discolouration. This quality of stainless steel is used on all pipework and the total construction of the silencer. Mandrel bending ensures full flow bends for better gas flow and Milltek systems are increased in bore to ensure ultimate performance without the loss of mid range torque.
Transforms performance and driveability
Sharper throttle response
Precision, quality controlled manufacture
Highest quality aircraft grade stainless steel
Low pressure systems for maximum performance
Weight saving over original equipment systems
Milltek stainless steel systems have a genuine performance edge - power gains around 100%, sounds that are truly awesome, looks that are subtle but discrete and a feeling of true exhilaration.
Hi-Flow Sports Catalysts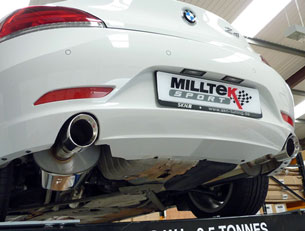 Orignal catalytic converters will typically have 400 or 600 cells per square inch (cpsi), these original cats are restrictive in thier flow, typically allowing an open area of around 55-65%.
A Milltek Sport Hi-Flow Sports cat which will be fully integrated into a large bore downpipe, has only 100-200 cpsi depending on application. These cats have an open area of between 75-85%, thus reducing back pressure substantially and increasing flow rates, all very desirable for extracting more performance, especially on turbocharged engines. Emission levels are maintained at legal limits by careful selection of thee volume of the metallic substrate. Lambda probe positions remain unchanged from the original equipment.Milltek Sport Hi-flow Sports Cats work exceptionally well on re-mapped (chip tuned) engines